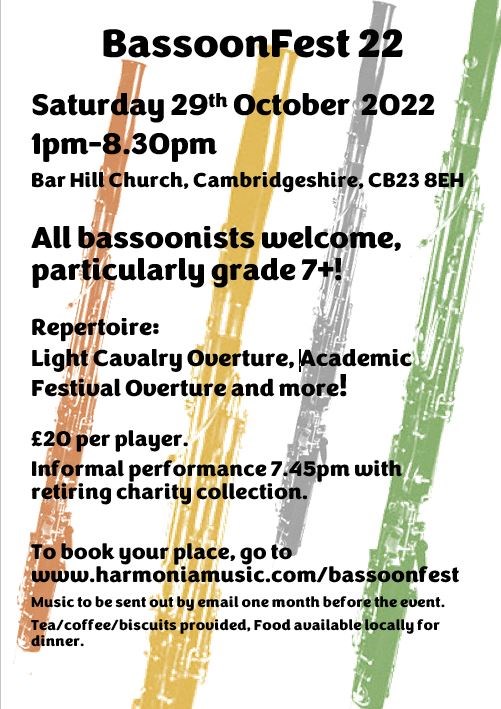 A fun workshop afternoon/evening for all levels of bassoonist, from grade 2 - 8+.
We'll be playing some brand new 8 part arrangements of Suppe's Light Cavalry Overture, and Brahm's Academic Festival Overture, plus some other shorter pieces. Music for the more major works will be sent out around a month before the workshop. The music is aimed mostly at grade 5+, but there are easier parts for lower grade players.
The ensemble will be conducted by David Minchin, who, although not a bassoonist, is a bass clef player on trombone, tuba and even sousaphone. Well-respected in the Cambridge area and beyond, David is an encouraging and experienced conductor who is excited by his first chance to lead a forest of bassoons!
Schedule:
1pm massed rehearsal 1
2.30pm coffee break
3pm smaller ensemble opportunities (splitting into 4-5 groups to play quartets/trios)
4.30pm coffee break
5pm massed rehearsal 2 (with percussion)
6.30pm food break
7.45pm informal performance with retiring charity collection.
---
The original plan for BassoonFest was for September 2020 to celebrate Kirsty's 40 years of bassooning. The pandemic slightly delayed things, so now it's October 2022 as Kirsty's 50th birthday celebration. The Light Cavalry Overture was arranged by Stephanie Reeve as a birthday gift in 2020, and will also feature Steph on contrabass clarinet. Kirsty has arranged the Academic Festival Overture.
To book your place, please use this form. You will be sent an invoice after your form is received.
£20 per player early bird rate, £25 per person if paid after 1st September.