African Drumming Workshops (SUMMER TERM)
Friday, February 11, 2022 by Kirsty Body | Drumming workshops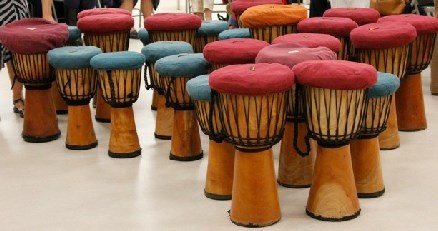 BOOK NOW TO AVOID DISAPPOINTMENT!
Sunday 3pm-5pm May 29th, June 26th, July 24th
The Octagon, Hanover Close, Bar Hill, Cambridge, CB23 8EH (turn down Viking Way behind Tesco, then right at the end into Hanover Close)
All drums provided, no experience needed. Tea, coffee and squash provided at break time - bring biscuits/cakes to share!
Age 8 - adult (no unaccompanied children please). Early bird rate £10 per person per workshop, or £25 for a family ticket (up to 2 adults included), late booking rate (within 1 week of each workshop) £15 per person, or £45 for a family ticket.
To book: click on the event in the calendar when logged in, or email Kirsty with details of who is attending. Bookings are not final until payment is made. 20 places at each workshop.
Please do not attend workshops if there is covid in the household, or full of cold, etc! Lateral flow tests are encouraged before the workshop.