Harmonia's PhilHarmonia has two different formats - a woodwind band, and a full orchestra. Both are suitable for grade 0-5 players of mixed ages, and offer fun workshops.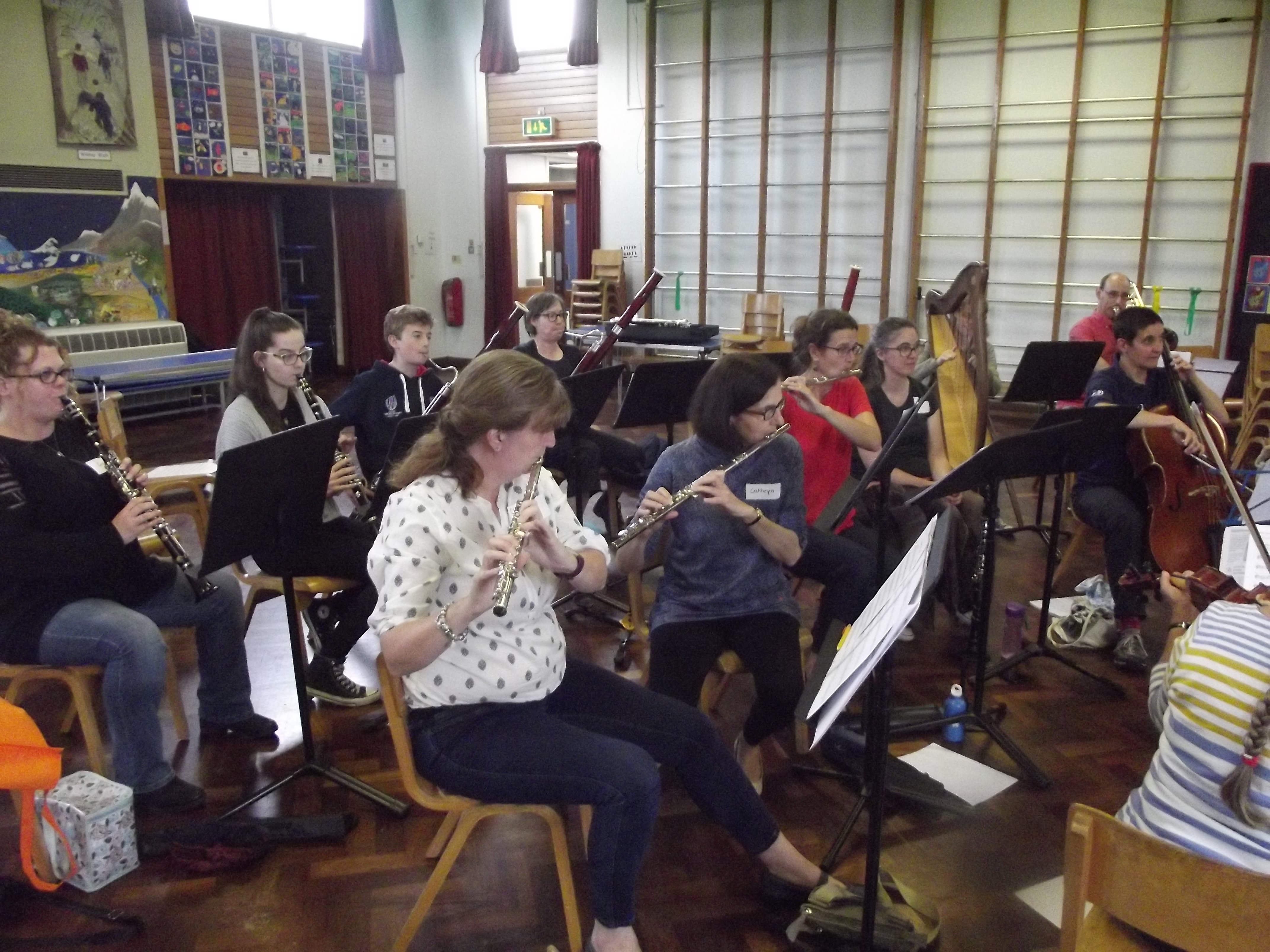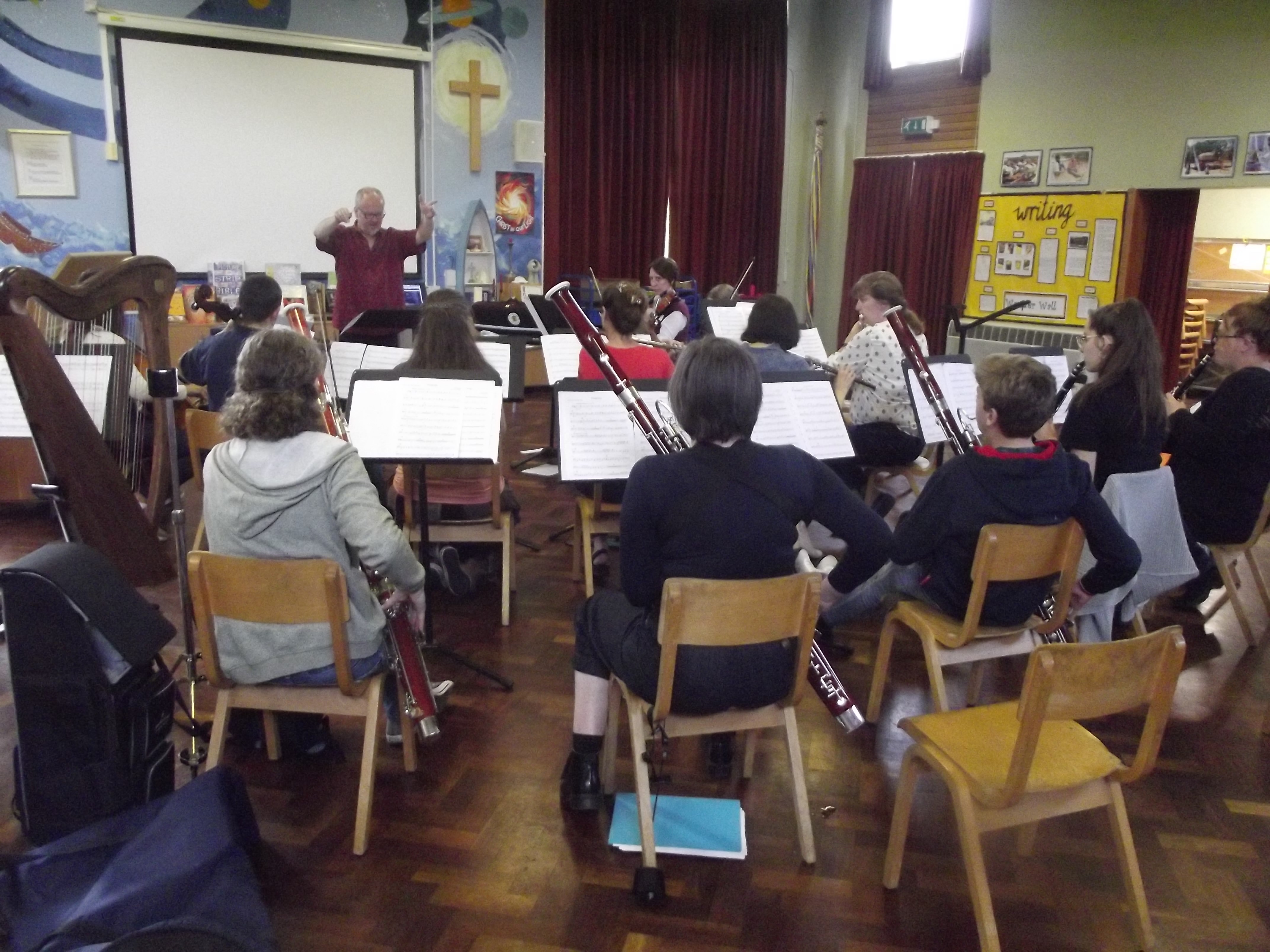 The PhilHarmonia Orchestra has patiently been led by Russell Keable, Steve Bingham and David Minchin. The goal is to provide an ensemble opportunity to adults who are either learning an instrument for the first time, or who are adding an additional instrument to their skill set. It is open to all ages, but children must be accompanied by a playing adult. Repertoire consists of the fantastic BBC Ten Pieces works which feature arrangements of famous classical pieces, with three different difficulty levels so everyone can find something manageable.
---
NEXT ORCHESTRA WORKSHOP: January 2023 (to be confirmed)
1pm-6pm Coton School, nr Cambridge
Repertoire: TBA
To book a place, simply click on the event on the calendar if you have a logon and select "register". Please subscribe to Harmonia to receive a logon automatically. Please use the contact form to give details of names, ages (if under 18), instruments and grades. You will then receive an invoice for the workshop.
Early bird rate: £20 per person, £50 per family (3 or more players from same family) if paid by Saturday 17th September
Late booker rate: £25 per person, £60 per family (3 or more players from same family) if paid AFTER Saturday 17th September
On the day: £30 per person
TIMETABLE

1pm arrive and tea/coffee

1.30pm rehearsal 1

3.00pm tea break

3.15pm rehearsal 2

4.45pm tea break

5.00pm rehearsal 3

5.40pm informal performance to friends/family

IMPORTANT INFO

The day is open to adult learners/players, plus their children. No unaccompanied children please.

The music comes in 3 levels - beginner, grade 2-3ish and grade 4-5 ish. You will need to download the whole set of music for each piece from the Harmonia portal (look in online resources once you have logged in), and print out the parts that you find most suitable. There will NOT be spare music copies on the day. Music is also downloadable here: https://www.bbc.com/teach/ten-pieces/KS2-3/zhvy8xs

Please bring a music stand for each person if possible, plus cakes/biscuits/snacks to share at the breaks. Tea, coffee and squash are provided.

Payment must be made before your places can be confirmed, and should be made as soon as your invoice arrives.

Please note that photos/video may be made on the day. Please do not attend if feeling unwell, or if there is covid in your household.
---
The PhilHarmonia Band is led by Kirsty, and is open to children and adults up to grade 5 on any woodwind instrument. Higher level players are welcome, but should expect to play some very easy parts for some pieces. The music is very straightforward and needs no preparation before the workshop day. This group is suitable for age 7+ and unaccompanied children are welcome. The goal is to provide an initial ensemble experience for early grade players, with some more difficult parts for more advanced players.
---
NEXT PHILHARMONIA WOODWIND BAND WORKSHOP:
Sunday 16th October 3pm-5pm Coton School early bird rate ends 9th October
Sunday 20th November 3pm-5pm Coton School early bird rate ends 13th November
Early bird rate: £10 (paid at least a week before the workshop)
Late bookers: £15 (paid within a week of the workshop)
To book a place click on each event and use the contact form to provide details of attendees, instruments, grades and any relevant medical information.
Invoices will be sent out once you book, or you can make payment to the usual account.