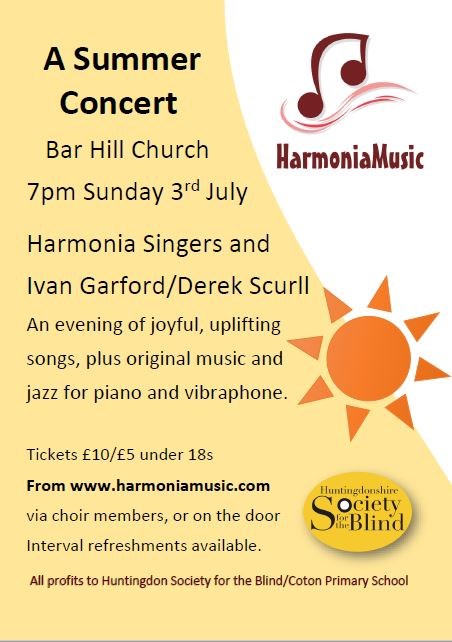 Our first Harmonia concert since January 2020!
Come and enjoy some really great music from the Harmonia Singers (both Coton and Huntingdon branches), plus Ivan Garford and Derek Scurll performing some numbers from their lockdown album "Entrance", and more.
Tickets available from www.harmoniamusic.com, choir members or on the door. £10/£5 under 18s
Interval refreshments available for donations (cakes, biscuits, wine, beer, soft drinks)
All profits will be split between Huntingdon Society for the Blind and Coton Primary School (who have been kind hosts of the Coton branch of the choir for many years!)
ORDER TICKETS
Order yours by sending details via the contact form (number of tickets required with details of full price/under 18s). You'll then get details of how to pay. Tickets will be held on the door once payment is received.
If you are already a Harmonia member, payment can be made to the usual place - send details via the contact form.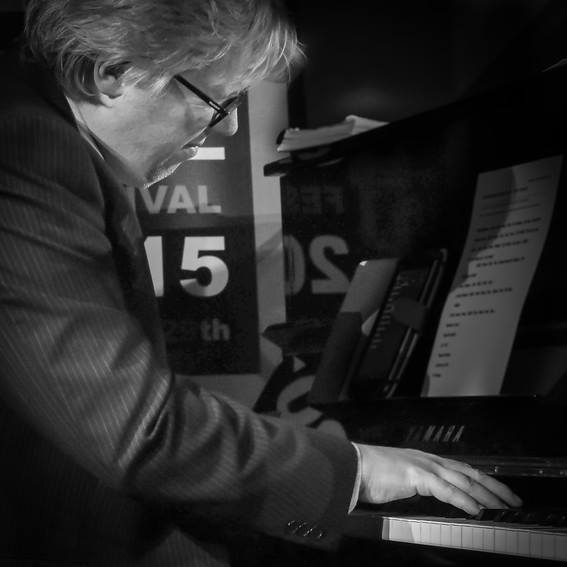 "Entrance"
Ivan Garford is a pianist and teacher living and working in The Fens. During the 2020 lockdown, he sat down with a music software package to see if he could fine-tune some of his better musical compositions. The result is the CD: "Entrance", featuring Ivan in a duo setting with vibraphonist Derek Scurll.
The CD was recorded at Steinway Studios, Newark. Ivan and Derek have played together in jazz ensembles for many years, but the idea for the CD was to explore some different musical avenues. There are obvious Classical, Minimal and Folk sources but also an added smattering of World Music influences from Japan and South America. There is also a cover version of possibly the greatest pop song ever: Jimmy Webb's "Wichita Lineman". Discuss!
The artwork on the CD is by Ivan's wife, Sarah, and features three lino prints inspired by an afternoon of photography malarkey in the Greenwich Foot Tunnel.
You can hear the album here: https://ivangarford.bandcamp.com/releases