All woodwind instruments, all ages!
Kirsty provides woodwind lessons up to grade 5 on flute, recorder, clarinet, oboe and alto saxophone, and up to grade 8 on bassoon. She is a specialist in early grades and young learners and has pupils from as young as 5 years old, as well as adult pupils.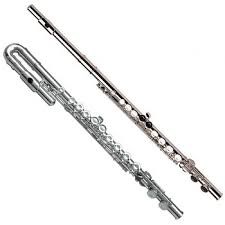 Smaller flautists can start on special curved head joints, and clarinettists may begin using a smaller C clarinet. More details are available once you have expressed an interest.

Most children take a break in the shorter holidays, but Kirsty does offer summer holiday lessons to avoid the long break from playing.

School lessons are available at Coton and Dry Drayton primary schools and are 20 or 30 minutes long.
Private studio lessons take place in Bar Hill, and are usually 30 or 40 minutes long. Pupils are expected to do 5 practices per week, which usually results in progress of around one grade or more per year. It is now possible to book a mix of zoom and studio lessons, for more convenience for those who find it more difficult to get to Bar Hill. Pupils on the mixed format are advised to do at least half their lessons at the studio. Please bear in mind that this doesn't work well for all pupils. It is occasionally possible to arrange fortnightly lessons for older pupils.
Current fees are £36 per hour (£12 for 20 mins, £18 for 30 mins, £24 for 40 mins)
To enquire about woodwind lessons, please complete this APPLICATION FORM. You will be contacted within 48 hours to discuss options.
CURRENTLY FULL for private and school lessons! You are welcome to go on the waiting list.